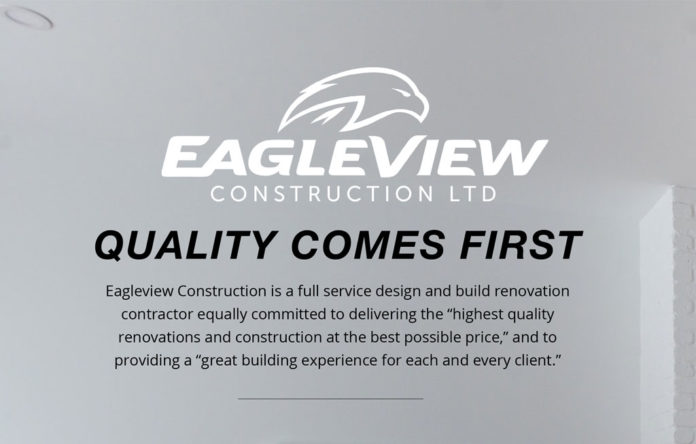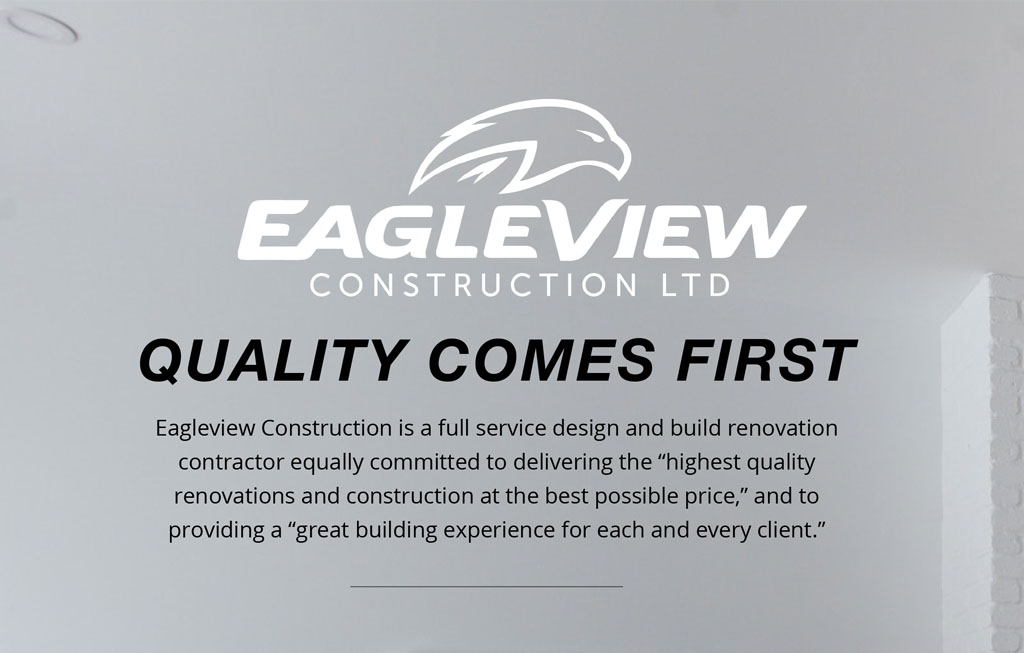 Quality comes first
Eagleview Construction is a full service design and build renovation contractor equally committed to delivering the "highest quality renovations and construction at the best possible price," and to providing a "great building experience for each and every client." That's according to Iain Kent, co-owner and President, who formed the company 10 years ago with Ben Wingelaar. Both owners brought over a decade of industry experience to their roles, along with lifelong passions for relationship-building and superior construction.
Powered by Ben and Iain's leadership and their shared values, Eagleview Construction has grown rapidly in size and reputation in just a short time. Today, the company serves Kitchener-Waterloo, Cambridge, Guelph and the surrounding areas, where they primarily focus on large-scale renovations and new custom homes. Their team includes 14 direct employees, along with a trusted roster of sub-trades they use continuously, and whom they rely on to deliver quality every time.
According to Iain, the strength of that team is one of the major reasons Eagleview has been successful. They have proven they can deliver to an extremely high quality standard, and they have proven they can do it on schedule and within the allotted budget.
"Our reputation is based on our solid track record," he says. "We're known for our reliability. We really do come in on budget and on time. That's something we take very seriously, and so does everyone we work with."
"It's about doing what we say we're going to do," he adds. "It's not much of a secret, but that's our secret."
In addition to the high character and calibre of their team, Iain also credits the company's reliability to their systems. He personally comes from a background in business and project management, and from the very start of Eagleview Construction, he ensured they had the right systems in place to keep their quality consistently high, and the process consistently smooth and stress-free.
"I think we're a lot more process-driven than a lot of companies," Iain says. "A lot of builders like to do things on an ad-hoc basis, but we have very established processes. We put in the time to effectively plan our projects from the start, so that we know exactly how we're going to execute a project. Right from the first interaction with a client, all the way through to the close, we know 'This is how it's going to go.'"
"That doesn't mean we're doing the same house every time," he adds.
In fact, he says, the opposite is true. He says every project they deliver – whether they are designing it in-house or working from finished drawings – "is extremely unique and has its own set of challenges."
"Every house is based on the client's unique vision. Our system just takes a lot of the variability out of the process; it removes a lot of the inefficiencies and deficiencies and allows us to focus on the task at hand. Working with us, the client saves a lot of time, stress and money and they end up with the home they always dreamed of."
Recipe for success
To date, roughly 90 per cent of Eagleview Constructions' business has come from word of mouth and referrals. That percentage speaks to the high level of satisfaction they achieve in their clients.
Iain believes that satisfaction is a result of the company's honesty and transparency. For example, he says they present every client with a detailed building proposal, which thoroughly breaks down the project scope and costs, so clients can have an in-depth understanding of where their money is going and why.
"By the time they sign a contract, they know exactly what's being provided and for what costs. I think that gives our gives our clients a lot of peace of mind and ensures a trusting relationship is developed from the start."
Following the design process, the transparency continues. Iain says they give their clients "very, very detailed schedules, so all our owners know down to the day who is going to be on their site and what's going to be happening."
"They have a log-in to our project management software," he adds. "They can see their schedule, they can see the invoices that are coming up, and they can see daily progress pictures from site. They are able to approve or request more information for potential change orders. It's all there. Clients can really come along for the ride."
When they close out a project, Eagleview also does walkthroughs with clients to make sure they are 100 per cent satisfied. They also have a two-year guarantee, and if there are any problems after the home is delivered, they make it a point to respond promptly and without delay.
"We maintain relationships with our clients long after the completion of a project," Iain says.
Eagleview Construction also maintains strong relationships internally. Iain reiterates that it's the strength of their team that makes the company successful. He says that "all of our guys and girls are hard-working and results-driven," and "they are relentlessly-obsessed with quality."
"And they are always trying to get better," Iain says. "That goes for everyone here, including myself and Ben. We're all constantly striving to be better versions of ourselves."
Iain also reiterates the importance of the company's extended team. He says they look for suppliers and subcontractors who share their values, and when they find them, they tend to stick with them for a long time.
"Our subs seldom change," he says. "Ben and I have been working with some of the same people consistently for the last 10 years. We have very high standards, and we have a diligent qualification process. Once a sub qualifies, and their performance is proven, we don't let them go."
An example of a company that meets Eagleview's standards is BENDT Kitchen & Millwork, a company with a long history of excellence in the Waterloo Region. They provide tailored custom cabinet making solutions, and they are dedicated – like Eagleview – to creating high quality custom work and delivering on schedule. Also like Eagleview, they take the professionalism of their staff very seriously.
"Our relationship with our subs is one of the key ingredients of our success and stability," Iain says. "They have always risen to the challenge. They always stood behind their work, and they have always been good representatives of the image we want to project on site. We wouldn't be where we are without them."
Unique and challenging
Eagleview Construction is not a builder that shies away from a challenge. In fact, Iain says that challenging jobs are some of their favourites to do.
As an example, Iain cites a recent addition they did to an old century home in downtown Kitchener. There, they more than doubled the size of a "tiny, almost cottage-y" home, turning it into a "large functional family home for some amazing clients that had some really unique wants and needs."
"For example, they wanted to use reclaimed bathtubs from other century homes," Iain explains. "So we had to solve some fun problems, like figuring out how to get a 600-pound cast iron tub up a staircase."
Other challenges on the project included keeping the appearance in line with the character of the existing home and street, and making it liveable and efficient from an HVAC-perspective in spite of the massive increase of the building envelope. Again, however, Iain says those are the kind of challenges Eagleview embraces. In this case, the company's success in solving them is reflected in the reception from the client:
"They are absolutely thrilled," Iain says. "They are in awe of the new space. They had a home they were extremely unhappy with, and now they've decided it's going to be their forever home."
"We've had multiple reference calls from them already," he adds. "That's the ultimate compliment. That means so much to us. When we get a call from a client's friend or family, it means that they really trust us and they were really satisfied with the home we delivered."
Moving forward, Iain says the goal is to continue to achieve that level of satisfaction, and continue to deliver large-scale and unique projects like they did for those clients. He also says that they are interested in growing, but that the more important priority is "maintaining our relentless focus on service and quality."
"We never have had a massive ambition to grow," he says. "Our growth has always been very organic. We've been very fortunate that demand has grown as a result of our culture and our values and the success of our buildings. It's important that we maintain those things."
The challenge, Iain adds, is finding new team members that can be trusted to properly represent the company's values. He says they are "timid" about bringing on new people for that reason, but that they are "always on the hunt for great talent."
"But we're also willing to wait on that really good talent," he concludes. "We'll postpone growth if growth comes at the expense of having a fun place to work, or at the expense of maintaining our values and quality. Our quality will always come first."For more on Eagleview Construction, their services, past projects, and to hear from past clients – and to get in touch with Iain and his team – visit https://www.eagleviewconstruction.com/