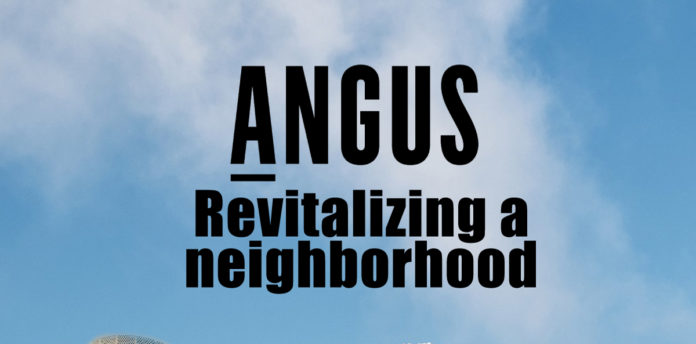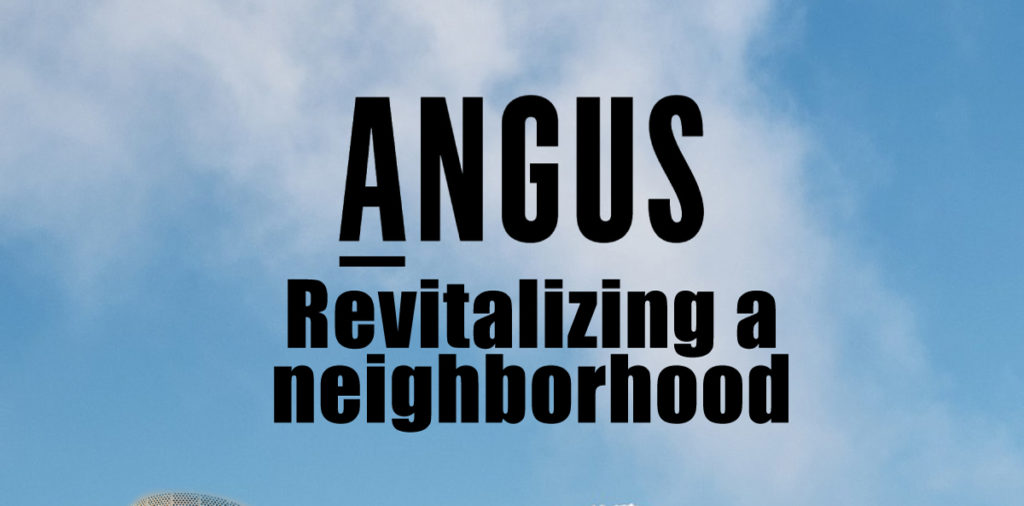 Revitalizing a neighborhood
The Société de développement Angus (SDA Angus) is a social-economy business working to drive urban revitalization and bring new life into several Montreal boroughs. They design and build estate projects using sustainable-development principles, which drive urban renewal and generate economic benefits for the local community. Their team includes experts in every aspect of development, and they guide their projects through every step of the process, from design to implementation. With every new venture, their goal is to maintain environmental integrity, ensure social equity, and target economic efficiency. 
One of the districts the SDA is revitalizing is the Technopôle Angus – a bustling, eco-friendly neighborhood located in the Rosemont–La Petite-Patrie borough in the heart of Montreal.
Today, the Technopôle is thriving, and is a welcoming location for businesses, workers, and residents alike. Only a couple decades ago, however, it was an abandoned industrial park that had been left behind following the 1992 closure of the Angus Shops and the loss of several thousand jobs. That's when stakeholders in the community mobilized to launch the SDA, which was formed with the mission of sustainable re-developing the area while accounting for its every need.
To achieve their founding mission, the SDA embarked on a number of initiatives, and formed and executed a multi-stage sustainable development plan. As part of that long term plan, the organization: decontaminated the area; built eco-friendly buildings; supported the creation of quality jobs; promoted job reintegration for the most vulnerable in society; followed social-economy principles; and promoted access to property and housing at a fair price.
Roughly 20 years in, the Technopôle now represents a healthy, dynamic and integrated living environment. It includes social-reintegration organizations that help get hundreds of people back to work every year. There is simplified access to property and housing. There's the first LEED_ND certified eco-district in Quebec, which has received numerous awards, and which is located across from Jean-Duceppe Park. There are also several health care service points, active public transportation, and a social-utility trust created to project the site from real estate speculation.
"It's a real urban-renewal success story," says Marilou Hudon-Huot, Vice-President of Commercial Leasing and Residential Development.
Marilou has been with SDA Angus for roughly eight years. She was drawn to SDA because they "put the needs of the community over profit."
"It's really interesting to be part of an organization like that," she says, "and it's really interesting be part of the redevelopment of Montreal. There are so many sites here that are in strategic locations that can be redeveloped. We redevelop them not to make the most profit, but to make the best project that will most benefit the community that's already in place. That's great to be a part of."
David Goulet-Jobin, meanwhile, is SDA's Building Project Manager. He's in charge of new construction and renovations to Technopôle buildings. Prior to joining the organization, he worked for a general contractor and SDA was a client. Roughly four-and-a-half years ago, he was looking for a change, and SDA reached out to him. Like Marilou, he admired the organization for the impact they made on the city, and was excited to be personally lived. On top of that, he lived only 10 minutes away from the Technopôle.
"It was the perfect match," he says.
When Marilou first started with SDA, they were planning the second phase of the Technopôle Angus. They already had roughly 50 per cent of the land developed. At the time, that meant roughly 700,000 square feet of mostly office space – which they had developed with the aim of creating new jobs at a site where thousands had lost jobs in 1992.
"The aim of Angus first was to redevelop employment in the neighborhood," Marilou recalls. "But then the sector evolved. Our competitors were not industrial land parks anymore. They were mostly neighborhoods. It was interesting to review what we were doing and reflect on where we wanted the redevelopment to go."
As part of that reflection, they worked with Provencher_Roy – a renowned local architecture firm – to develop the Sustainable Master Plan for Technopôle Angus Phase 2. That plan encompassed roughly 450,000 square feet. It still focused on job creation, but it balanced that focus with other social, economic, and ecological objectives, including the addition of new ecologically-conscious housing.
"We started by mostly developing offices," Marilou recalls. "Now we're developing neighborhoods."
The Phase 2 Master Plan was presented in 2015, it was well received, and construction started in 2018. SDA started with their first residential project, called Cité Angus.
Cité Angus is a residential project within the Technopôle Angus. Marilou describes it as the "the ultimate vector of the SDA's values and vision." It comprises 208 condo units designed to meet the needs and wants of families who wanted to stay and raise their children in Montreal. It is being delivered in two phases. Phase 1 is already built and sold out, with every unit occupied. Phase 2 is under construction now, with only four or five units left on the market as of June 2021.
Phase 1 of Cité Angus was set apart by its affordability – over 70 per cent of the units had a price tag that met the affordability criteria of the City of Montreal's Home Ownership Support Program, allowing owners to access a local $10,000 per unit subsidy. At the same time, the units were spacious – the vast majority encompass over 1,000 square feet, and include three closed bedrooms, two full bathrooms, and plenty of storage space. The building also includes a large common room, a bright courtyard, and a space for bicycle parking.
Cité Angus II, meanwhile, is set apart by its bold new green architectural concept. The design was inspired by the tree – "the ultimate icon of nature," Marilou says. The building has a monumental spiral staircase that allows residents to access their condos directly from the lush courtyard. All units offer exceptional natural lighting, thanks to open areas, nine-foot ceilings, and abundant windows on two or three sides. There is also a green rooftop terrace with a spectacular view of the city and of nature. Once again, the units are also large and accommodating to families.
According to Marilou, the feedback from residents on both phases has been very positive. She says that residents of Phase 1 are happy with their homes and they recognize how much of a luxury it is to live in "an ecologically-conscious development with such a great mix of stores and services around."
Phase 2 is still under construction, but Marilou expects the reception to be even better, thanks to the lessons they learned on Phase 1. Also, she says, the new building was designed to provide residents with what they're looking for in a post-COVID world – meaning outdoor private space.
"Just the balconies are between 200 and 650 square feet per unit," she says. "We really gave people that outside room side that we all wanted to have when we were stuck at home. The design was really well received by the public, and the sales show that. After just 10 months, we're 95 per cent sold out."
Marilou further credits that commercial success of both Phase 1 and 2 to the appeal of the neighborhood. In particular, she says that buyers particularly responded to the sustainable design elements – for instance, over 20 per cent of the people who bought parking spaces in Phase 1 also bought electrical charging stations.
Marilou also re-credits the affordable price points, as well as the spaciousness of the units.
"There aren't a lot of projects in Montreal that I know of that mostly offer units over 1,000 square feet," she says. "And we have a lot of two-storey units, so they feel more like little homes than traditional condominiums. I think that was really appreciated by buyers."
The quality of the buildings has also been a point of difference, Marilou says. She credits that quality to the skill and dedication of David and his team of builders.
"We work with professionals, and we bring them in early," David explains. "The general contractor is involved as soon as we have the architect. They participate in each step of the process, from conception to delivery. They make sure that what we're designing is buildable and in line with our budget."
On Cité Angus, they worked with Sidcan, a well-known builder of high-quality structures, and a longstanding partner of SDA's. They're not exclusive to them, but they have worked together on multiple projects.
"We know those guys very well," David says. "We know how they work. We know they're very educated and knowledgeable. We trust their advice."
"We also know they're very transparent with us," he adds. "There are no games being played. It's very simple with them, and that's a great quality to have in a building partner. That's why we work with them and that's what we're looking for in a contractor."
David and Marilou also extend credit to the architects they collaborated with closely on both phases. On Cité Angus I, they worked with Rayside Labossière, and on II they worked with Aedifica. Marilou says they chose those partners because of their willingness to collaborate.
"When we look for architects, we look for professionals who will be part of the team," Marilou says. "We don't just see ourselves as clients. We see ourselves as partners. It's important to us to work with professionals who will add to our vision."
"We want to have an idea, and we want the architect or designer to say, 'I love that, I'm going to push to push it further, and I'm going to work with you to bring it to the next level.' That's our first criteria."
In the case of Cité Angus, their idea was to have big units, and to mostly have three bedrooms, because that's what they found was missing in the neighborhood. They needed their architect to be on board with that vision.
"Our second criterion is we need to design cost-effectively," Marilou continues. "We want to make sure we're not just dreaming of what could be designed. We have to design with reality in mind."
Moving forward, she says that SDA Angus will continue to take that reality-based approach – even as they deliver imaginative and forward-thinking projects like Cité Angus and the Technopôle Angus at large.
In just the last year, SDA has developed over 100,000 square feet of land, including Cité médicale Angus – a new health centre, which houses the largest Family Medicine Group (FMG) in Quebec, radiology and physio and occupational therapy clinics, a pharmacy and a medical research facility. That centre addresses the healthcare shortage in Rosemont–La Petite-Patrie, while offering patients all the services they need under just one roof.
On the other side of the district, SDA also recently developed and delivered a new head office for lg2 – the largest independent creative agency in Canada. That's a 60,000 square foot building with 9,000 square feet of retail space on the ground floor.
Currently under construction, meanwhile, is a building slated for student housing, with 123 units due to be completed July 2022. Next year, SDA will also start building social housing. The Giant Steps School – a school for children with autism spectrum disorder – will later be relocated to the district as well.
Those are just some of the examples of the upcoming attractions that Angus has to offer – there's also an upcoming craft brewery on the ground floor the health centre, and an upcoming wine bar under lg2's office.
"That will be really fun for Angus," Marilou says. "We started by developing a lot of the essential services, but now we're developing some of the fun things. We're on the lookout for interesting projects. It's exciting to be part of it."

For more on SDA Angus, their history, their mission, and the many ways they are revitalizing the Technopôle Angus and other districts, visit sda-angus.com/en/
For more on Cité Angus in particular, visit https://cite-angus.com/en/