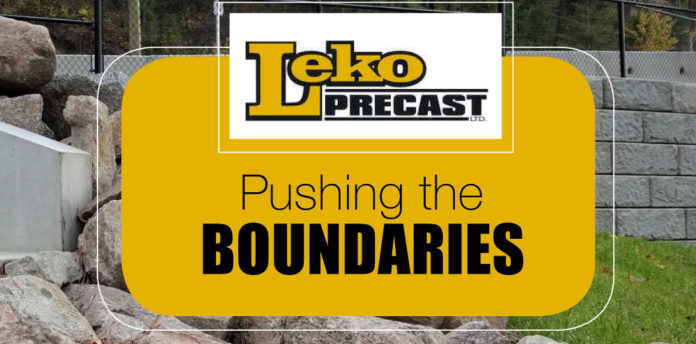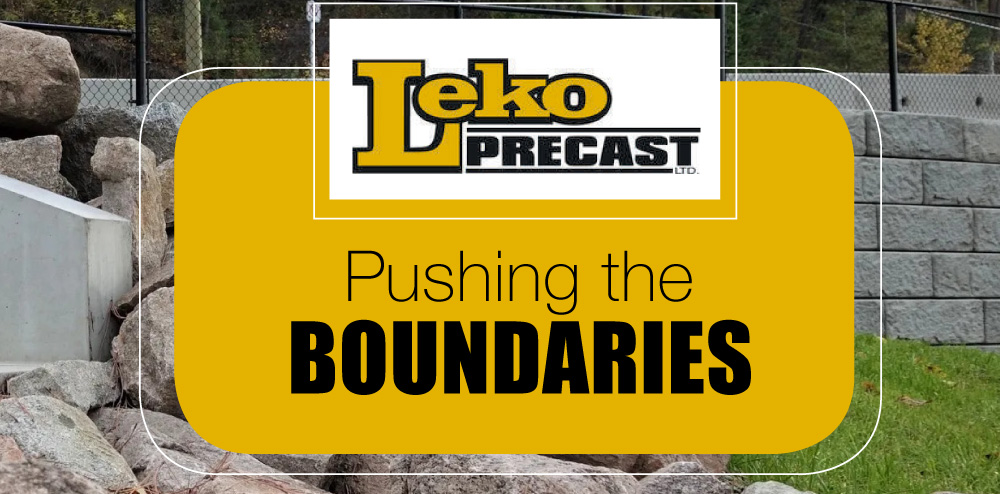 Pushing the boundaries
Leko Precast is a British Columbia-based designer and manufacturer of a wide range of precast concrete products. Throughout their almost 50-year history, they have focused strongly on innovation and improvement. They recognize their industry is ever-changing, and they have made it their mission to stay up-to-date. To that end, they have consistently adopted the latest technological developments, they have regularly added capabilities to their production facility, and they have always strived to "push the boundaries of possibility" for their customers.
"Everything here is state-of-the-art," says Janene Covey, Project Manager. "Our quality is exceptional, and we're always looking for ways to make it even better. We're always moving forward and researching the best way to do things for our clients. That's what sets us apart."
Leko Precast was initially founded in 1975 by Frank Leko. In 1993, it was acquired by current president Colin Black, who greatly accelerated the company's evolution. Janene has personally been with the company since 2013, and in her time she has seen the business grow by leaps and bounds.
In the last decade alone, the company has moved into new office premises, they have established a new batch plant that can potentially double their output, and they have expanded their product offering – they now offer 16 sizes of box culverts, for example, and they recently started manufacturing wall panels.
In 2017, Leko Precast also procured the rights to exclusively manufacture the PERFECT manhole system in Western Canada. That system – which was developed by Schüsselbauer Technology is Austria – was designed to create manhole bases that are "guaranteed watertight, accurate, and easy-to-install."
Leko is now producing PERFECT bases at record numbers, and Janene says "the positive feedback has been overwhelming."
In addition to manholes and box culverts, Leko's current offering also includes catch basins, light and sign bases, septic tanks and accessories, guardrails and parking curbs, recon wall systems, and toilet buildings. According to Janene, the contracts can range greatly in size and value – they can sell one septic tank to a homeowner who shows up with a trailer to pick it up, and they can sell entire drainage systems to the Ministry of Transportation and Infrastructure.
"There's never a dull moment working here," she says. "There's nothing too small for us to look at, and there's almost nothing too large for us to handle. Right now we're bidding on some massive projects."
No matter the client, Janene believes they choose Leko Precast for their quality. Again, she calls it "exceptional."
"When you stand our products up against comparable products from other manufacturers in the industry, our quality is apparent," she says.
The company ensures that quality by designing and manufacturing to current CSA and ASTM standards, as well as to the specific requirements of each project. They also have a comprehensive quality assurance program that ensures their concrete can be counted on for a lifetime in any application. That program includes regular field testing and compression strength testing, conducted both in-house and by third parties.
The PERFECT manhole system, in particular, has a lot of quality control baked in. For example, benching by hand is the industry standard – but with the PERFECT system, channels are mechanically programmed and robotically cut, which reduces many of the problems commonly associated with hand-benching.
Then there's the company's customer service – which is similarly stand-out, Janane says. She explains that they take a lot of pride in being responsive to their clients – in responding promptly when they have questions or concerns, and in acting quickly when they have issues.
"Good service is about not keeping people waiting," Janene says. "If the client has a question or a problem, we respond right away."
It helps, she explains, that Leko has an "intimate office environment," where basically everyone knows what's going on with every project. So when their clients phone the office, they are almost guaranteed to talk to someone who can help them.
In addition, Leko proactively proposes new products and solutions to their clients. They regularly attend industry-specific showcases and trade shows around the world, and if they discover a new product or way of doing things that will add value for their clients, they will not hesitate to adapt.
"Our one defining goal is to deliver the best products to our valued customers," Janene says. "We're always eager to introduce new and ground-breaking solutions to the various challenges of civil design."
As a result of all the above – the quality assurance, the customer service, and the focus on innovation – Leko Precast has been able to form long-lasting relationships with many of their customers. Some of those relationships go back over 20 years.
"We have some amazing customers that we work with on a continuous basis," Janene says. "And we don't have many one-time customers. Once someone walks through the door and works with us once, we usually end up seeing them again."
"Those relationships are everything," she adds. "We know that without our customers, we wouldn't be here."
Nothing but growth
Leko Precast is also set apart by the calibre of their team. That starts at the top, with Colin Black, President, who is very involved in all operations at the company. It continues with Woody Smith, General Manager, who has been with the business for over 30 years and brings a wealth of real-world knowledge to their daily operations.
"Colin and Woody have years and years of experience in every capacity of precast," Janene says. "The general knowledge here is amazing. You can't get that kind of knowledge just by opening a book. It's vetted by years and years of experience."
The majority of Leko's team – from Colin and Woody on down – are also longstanding. One current employee even worked with Frank Leko, the original owner. Janene herself has been there almost 10 years, and she estimates at least three-quarters of the company's staff has been there almost as long.
Janene credits that loyalty to a number of key factors. Firstly, she credits the company's longstanding presence in Vernon, BC, and the reputation they have built within their community.
"I grew up in Vernon, and they've been here the whole time," Janene recalls. "I grew up hearing their name. I didn't know what concrete was about, but I knew Leko Precast. It's great to have a company that's so good to work for right here at home."
Secondly, she says the company's quality is just as appealing to staff as it is to customers – they know they are manufacturing a product that they can stand behind and be proud of. The same goes for the quality of their service – they can be proud of how they treat people.
"Leko Precast is a wonderful employer," Janene says. "It's a true team environment. It makes it really easy to come to work. I think the retention is proof of that."
Moving forward, the company's goal is to keep that retention high, while also continuing to improve and evolve their processes as they always have. In that spirit, they are in the process of earning the Canadian Precast Concrete Quality Assurance (CPCQA) Certification – by the end of the calendar year, the B.C. Ministry of Transportation and Infrastructure will require their suppliers to have that, and Leko Precast wants to stay well ahead of the curve.
In addition, the company will continue to expand their product line – as previously mentioned, they recently moved into wall panels, and when it makes sense to introduce more products, they will eagerly take the plunge.
As for growth, Janene believes it's inevitable – "Absolutely we're going to grow," she says, "there's no question about that whatsoever." This year alone, the company is set to double their production at a minimum. They will also be moving into a larger office on their same property.
"I have seen nothing but growth in my time here," she concludes. "Five years ago, I didn't expect we'd be where we are today. There have been leaps and bounds every year, every week, every day. I don't see an end to it."

For more on Leko Precast, their history, their history, their products, and their team – and to get in touch with that team today – visit https://lekoprecast.com/