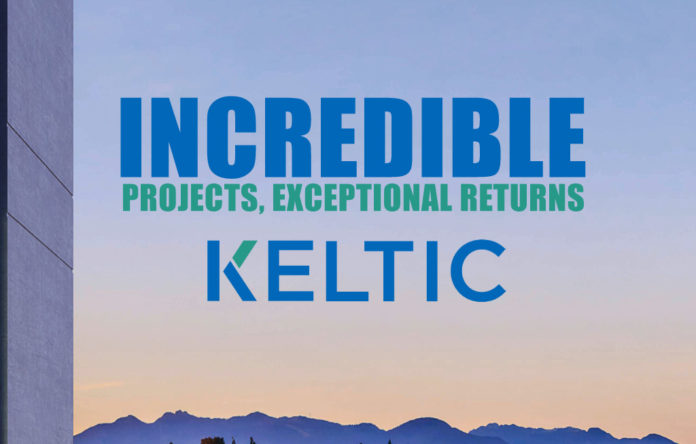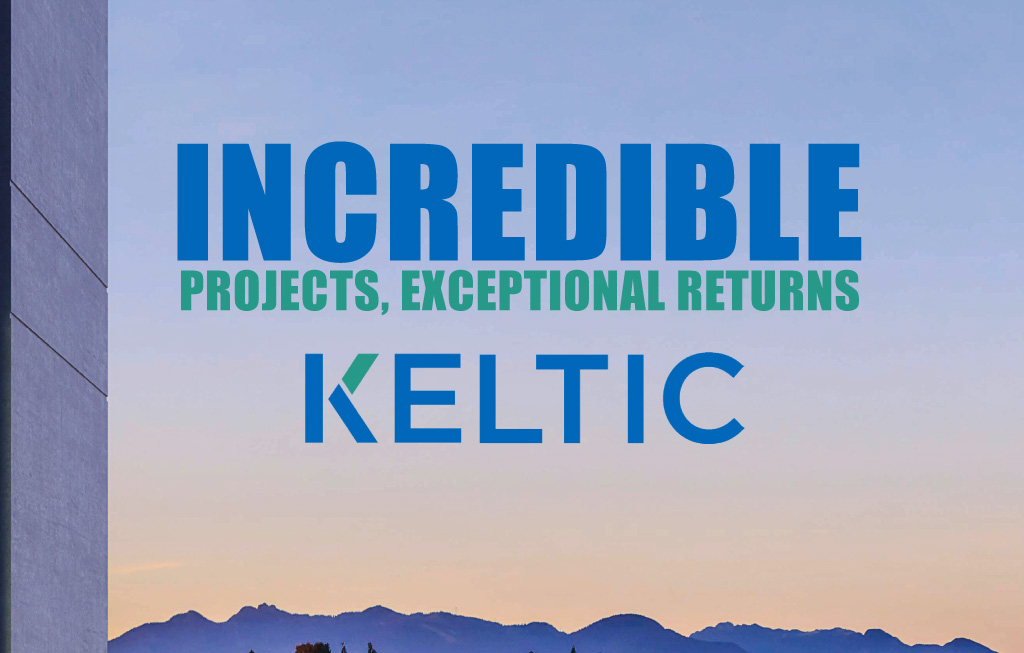 Incredible projects, exceptional returns
Keltic Canada Development ("Keltic") is a Canadian-owned and people-focused real estate development company based out of Vancouver, B.C. The company was formed with the goal of being a top-tier developer in the region and building a lasting legacy. They aim to do that by delivering a diverse array of development projects, and by forming close-knit relationships with customers and partners. Together with all stakeholders, they challenge the status quo and create the "perfect homes and spaces for now and in years to come."
"Our focus is on lifestyle, quality, and community," says Mike Wurm, Senior Construction Manager. "We're constantly looking to deliver developments that tick all those boxes."
The story of Keltic begins with Mr. and Mrs. Li, who immigrated to Canada more than a decade ago. Mr. Weiguo Li is an award-winning entrepreneur and founder of Beijing GeoEnviron Environmental Technology, which is China's largest environmental remediation company, as well as Oriental Yuhong Waterproofing Technology, which is the third-largest roofing and waterproofing company in the world. Mrs. Li is Owner and Director of Keltic.
Mr. and Mrs. Li fell in love with Canada, and with Vancouver specifically, shortly after immigrating. Inspired by that love, they founded Keltic in 2016. Their intention was to make a long-term commitment to their community and their vision was to become a tier-one developer in Metro Vancouver. Since beginning their first project that year, they are well on their way to achieving that vision.
For his part, Mike Wurm is a veteran of the Lower Mainland's real estate development industry, having spent more than 27 years working for industry leading general contractors, construction managers, and developers. He was recruited by Keltic roughly two years ago, and he was attracted by the size and scope of their upcoming projects.
"The land that they had available, and the projects they had going, it seemed like too good an opportunity not to get on board with," he recalls. "It's a very exciting company to work for, with very exciting ownership."
Today, Keltic's projects include a range of residential, industrial, and mixed-use developments for sale, under construction, or upcoming. All were designed and planned in collaboration with leading architects and consultants, and all are being delivered by the region's leading contractors.
For example, the company has three premium developments currently in the selling phase. Those include 'Coco' – 57 exclusive luxury residences in Metro Vancouver's Oakridge neighbourhood, being built by Kindred Construction – 'Park West' – 258 homes in two towers in North Vancouver, being built by Urban One Builders – and 'The Paramount' – 538 homes and 84 strata offices in four towers in downtown Richmond, being built by Graham Construction.
The Paramount particularly showcases Keltic's diversity. In addition to the homes and offices, the project includes a 25,000 square foot retail podium, connection to Richmond's district energy system, and an early childhood day-care hub, which will have room for over 90 students. Keltic is also partnering with YWCA Vancouver on the 27 affordable rental units in the development.
Currently in the pipeline, Keltic also has three projects in active development, which further demonstrates the diverse nature of the company's business.
6620 Sussex Avenue in Burnaby is a 30-storey condominium high-rise with a four-storey rental building, for a total of 228 units in the heart of Metrotown, Burnaby.
220 Prior Street is a nine-storey medical strata office development, and the only privately-owned project located directly adjacent to the new St. Paul's Hospital Campus.
Lastly, Trenant Park Square is the largest grocery shopping centre in the suburb of Ladner. It features 139,000 square feet of leasable area, and a diverse mix of tenants. Keltic is currently devising a masterplan to redevelop and modernise the structure there. The company believes the recent George Massey Tunnel Replacement will revitalize Ladner by making access a lot easier for businesses and residents, and they want to take advantage of that opportunity.
In general, Mike says that's what Keltic consistently aims to do – take advantage of opportunities, no matter the sector or the scope of the project.
"We're always pursing new opportunities to grow and to expand our brand," he explains. "To that end, we're capable of handling projects of all shapes and sizes. There's nothing we're not willing to look at."
According to Mike, Keltic's confidence is a credit to the company's strong capital base and to the strength of their world-class team. In-house, he says they have decades of experience spanning the entire development process, from design and architecture, to real estate and acquisition, to construction and delivery, all the way to customer care. He believes that experience is a significant point of difference.
"A lot of development companies are primarily investment organizations," he says, "whereas we take a very hands-on approach. We have a lot of brainpower in our office here, and a vast knowledge base to draw from."
On the construction side, Mike believes that experience is vital – and yet, he says, a lot of developers don't have it in-house.
"I have worked for other developers and general contractors, and a lot of the time, the owner reps would have no experience whatsoever."
"Every member of our construction team here, however, has extensive experience in running jobs themselves, here in Vancouver and in other parts of the world," he explains. "Keltic is a relatively new company, but most of the faces here have been working in the industry for a long time."
In addition to their experience, Keltic is also set apart by their speed. They are able to deliver projects quickly, but without compromising quality or safety. Mike credits that ability to the relationships they have formed with their contractors. He says the companies they work with enforce "very strict schedules," and they are open to working with Keltic to accelerate those schedules whenever possible.
For example, Mike explains that they encourage their contractors to pre-fabricate as much as they can – on The Paramount, for instance, their mechanical subcontractor has prefabricated the entire district energy hub in their yard, and they will be bringing it onto site almost completely constructed.
Also on The Paramount, Keltic rented an adjacent yard for the rebar contractor to use as a prefabrication space. They realized that there was no room to fabricate those products on site, so they went ahead and paid for a yard so the contractor could prefabricate them close by in order to save time.
"So we will certainly work with a contractor to find means to accelerate the schedule, and in many instances we'll contribute to the costs," Mike says. "That's not something a lot of developers will do, or even think to do."
Keltic also uses products and technologies – particularly environmental technologies – that other developers do not. That penchant for innovation is yet another point of difference. Again, Mike credits the relationships they have built with their consultants and building partners.
"We work with companies that have proven track records, but that also have a desire to innovate," he says. "In the construction industry, it often takes a leap of faith to use something that you've never used before, and our partners are willing to take that leap."
As one example, Mike cites William Kelly & Sons, a group of Richmond-based companies that provide a full range of mechanical contracting services, including plumbing, gas, heating and cooling, ventilation and sheet metal, site services, design services, and fire protecting. They have been serving the province for over 40 years, and they have a proven record of completing jobs on time, safely, and professionally – but they have never become stuck in their ways. They have always remained open to new ideas and different ways of doing things.
As another example, Mike cites a new waterproofing technology that Keltic has incorporated from their founder's other business, Oriental Yuhong. They have now utilized that technology on two projects so far. The contractors on those jobs had never used it before, but "they had the ability to look beyond the traditional Lower Mainland way of doing things."
"It's so easy for developers and contractors to say 'We've always done it this way, so we're going to keep doing it this way,'" Mike says. "I've worked for a lot of large companies and that attitude is pretty common. But at Keltic, we like to take a broad view, we like to try new things, and our partners have followed us on that journey."
The efficacy of the company's approach is undeniable. In 2019, Keltic brought more units to the market than any other company besides Westbank.
"We really hit the ground running," Mike says. "In order to do that, we had to find the right builders. That's what we did, and we're having a lot of success together."
Building on a foundation of trust
Moving forward, Keltic's goal is to continue to develop a diverse array of projects. Mike expects the company's output to continue running the gamut in terms of size and sector, with the only commonalities being "exemplary design, high quality, and innovation."
Mike also says that Keltic will diversify in other ways. For example, they recently started providing consulting and project management services to external developers.
"We feel that despite being a young company, our team's extensive development and project management experience can bring instant value to partners and clients," he explains. "Our services are adaptable to projects of all sizes, types, and construction methodology and procurement methods."
In the near future, Keltic is excited to hand over their first project in Coco Oakridge. The sales on that project have been very strong to date – the same goes for Park West and The Paramount – and Mike is confident that once purchasers can actually "see and touch" the finished product and experience its quality, the few remaining units will sell quickly.
"The real estate market here in Vancouver is very strong right now," he says. "The push factors to come to Vancouver are equally high as the pull factors. So we're looking forward to getting the opportunity to prove ourselves with the first handover of Coco."
The Paramount will come next, with handover beginning towards the end of the year.
In the longer-term, Keltic Development has several more exciting assets they are excited to develop. A prime example is the Celtic Shipyards in Southlands, on the Fraser River. That's the last industrial site in Vancouver that retains buildings from the city's historic ship repair industry. Keltic is working with the City of Vancouver, local First Nations groups, and other stakeholders in order to earn permission to sub-divide that land and revitalize the area. A recent proposal was turned down by Council, but Keltic has vowed to "rise to the challenge" and "come back with something even better."
There's also Sandpiper Resort, a hotel and golf course in Harrison Milles, situated directly on the "serene waters of the Harrison River." Keltic currently has a lodge and new cabins for rent over there, and they are aiming to increase their residential footprint there in the future.
Mike says that that Keltic will pursue those opportunities and more, and along the way they will continue forming strong and enduring bonds with all their stakeholders.
"We view all of our clients, customers, consultants and municipalities in which we develop as partners," he concludes. We look for partnerships built on a foundation of mutual trust and respect, a shared vision, and a relationship that becomes a lifelong friendship. Together we can build incredible projects, with exceptional returns, and create lasting relationships."For more on Keltic Canada Development, their projects, partnerships, and team members – and to get in touch with that team – visit https://www.kelticdevelopment.com/