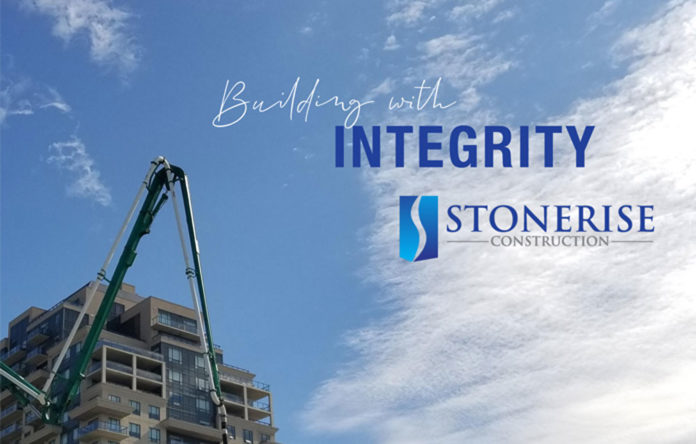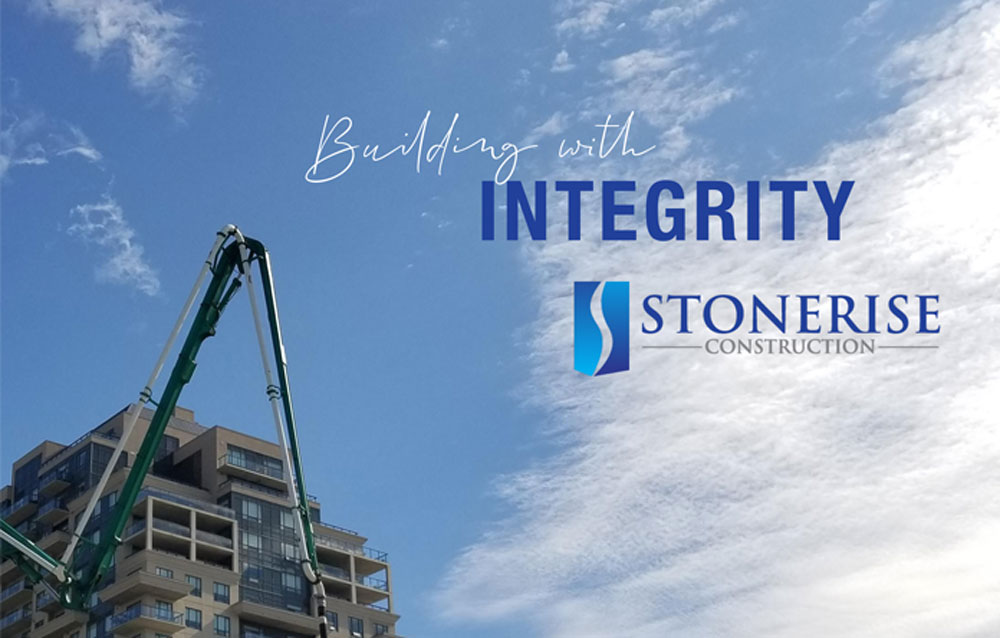 Building with integrity
Stonerise Construction is a developer and builder based out of Waterloo Region, Ontario, and the company behind some of the region's highest-quality and most highly-regarded commercial and high-rise projects. In their 15-plus years of operation, they have built a reputation for the integrity of their services, the calibre of their workmanship, and their uncompromising commitment to meeting their client's needs.
Wade Gayowsky is the Executive Vice President of Stonerise Construction, and oversees all aspects of their projects. He says, "Everything we do is about executing the client's vision."
Wade joined Stonerise roughly six years ago, at a time when they primarily worked for a single developer. Since he joined up, the company has evolved and developed considerably. In the years since, they have continuously refined their processes and improved their efficiencies. They have also branched out, taking on more varied projects for a wider range of clients.
Today, Stonerise Construction is a full-service company capable of taking on any project, large or small, in the commercial, industrial, and multi-residential sectors. They have the expertise and capacity to take projects from concept stage through to fully operational status, and they have the flexibility to tailor their offering to each client's individual needs. Their range of services include: general contracting, design-build, construction management, project management, and consulting.
In recent years, Stonerise has most demonstrated their value on high-rise residential projects – the kind that few other companies even take on. According to Wade, Stonerise has become known as the specialists in that sector.
"We are very knowledgeable and very efficient when it comes to residential high-rise," he says. "We like doing them because we're good at them, and because they're long-term projects. They keep us busy, and they give us the opportunity to establish fantastic and long-lasting relationships with all of our stakeholders – with our clients, trades, suppliers, and consultants."
Wade explains that they build and maintain those relationships by always acting ethically and transparently. When it comes to clients, for example, he says "we listen to exactly what they say" and "we try to bring their vision to life to the best of our ability" – but at the same time, he says, "we're honest with them about the restraints, whatever they are."
"We don't hold anything back," he explains. "We believe in being up-front. If there's a problem, we tell them, and if things are going great, we tell them. We have found that a lot of our clients truly appreciate that honesty. They don't like it when builders hide things from them."
That open and honest approach has resulted in a lot of repeat business and referrals, Wade adds. He says the vast majority of their clients they have worked with more than once, and of the first-time clients, almost all have come from past-client recommendations.
"Last year we did a chiropractor clinic and that person recommended us to their neighbour," Wade says. "Now we're building a medical centre for them next door. I like to think that shows we're doing the right thing."
That repeat business is also testament to the quality of their workmanship. They ensure that quality by only working with like-minded subcontractors, by employing hands-on superintendents and project managers, and by employing a quality coordinator whose whole job is reviewing finishes to make sure they meet the company's high standards.
Setting the standard
Over the years, Stonerise Construction has completed projects across Southwestern Ontario and beyond, in areas including London, Barrie, Windsor, Niagara, Montreal, and more. Recently, the company has been particularly proud to contribute to significant economic development in the Region of Waterloo. They are doing that through high profile projects such as the Barrel Yards in Uptown Waterloo, and the Metz in Kitchener.
The Metz is Kitchener's newest neighbourhood, and Stonerise's largest project to date. It is being developed in the area formerly home to Schneider's meat processing plant, and will house a mix of commercial, office, and affordable housing. As Auburn Developments' construction partner on the project, Stonerise was responsible for the demolition of the famous former meat processing plant and will be completing all of the new construction.
Auburn Developments is also the client on The Barrel Yards, a new high-end community in Uptown Waterloo offering condominiums, apartments, live-work units, and more. Stonerise has been involved in that project since the first shovel went into the ground in 2010. In 2016, they won industry awards for two of the buildings they worked on there – which, at the time, were two of the tallest free-standing total pre-cast concrete buildings in Canada. Two other buildings used cast-in-place concrete. The company also built and worked within an underground parking garage.
"There's nothing else like it in the Kitchener-Waterloo area," Wade says of the project as a whole. "So there's been a lot of learning, a lot of working with the city. The fire department comes to site a lot. Every six months, I walk them through and show them what changes have been made. We're all figuring it out together, and it's turned out extremely well so far."
Wade credits Stonerise's success at The Barrel Yards – and on all their projects, for that matter – to the high calibre of their subcontractors and suppliers. He says they have been fortunate to collaborate with a long list of dedicated trades.
That list includes FCF Carpentry – a relatively new company, but led by founders with 34 years' experience between them. Today, they specialize in the installation of interior trim, wood and steel frame doors, decorative mouldings, cabinetry, and exterior wood working. Their key values include maintaining a high standard of quality work and ensuring the safety of all their employees.
Also on the list is Strong Foam Insulation – they are another company founded relatively recently, but with similarly experienced leadership, and an equally strong commitment to quality and consistency.
Other partners, on The Barrel Yards and beyond, are more longstanding contributors to the region. For example, there's J-AAR Excavating, a company in the John Arts Group, which has been servicing South Western Ontario since 1978. They are a versatile operation with an extensive fleet, and they are known for their reliability, cost-effectiveness, and high professional standards.
TA Appliances has a similar reputation – and their history in Ontario dates back even longer, all the way to 1906. They provide their clients, including Stonerise, with the best quality, brand name products at the best prices, and their selection is second-to-none.
According to Wade, each of those partners is as dedicated to their projects as he is. He says that dedication is exactly what he looks for in his team.
"We look for quality, and we expect quality," Wade says. "We like to work with people who feel the same way, people who set the same high standards for themselves that we do."
In addition to the strength of their subcontractors and suppliers, Wade also credits the company's project success to their aforementioned transparency. He believes that's the main reason they have such strong and enduring relationships with clients like Auburn Developments.
"They know the cost up-front, we know exactly what they're looking for, and everybody gets what they want," he says. "If there's ever an issue, we tell them right away. If they see something they don't like, or if they want to change something, we're very quick to adapt."
"That particular project has been going on a long time, so some trends have changed, and some of the client's thoughts about the building have changed with them," he adds. "We understand when that happens. We work with them to make those changes, and make them as economically as possible."
Exceeding expectations
In the early stages of the pandemic, Stonerise Construction voluntarily shut down their sites for a little over a week in order to adapt the business. Wade and his team wrote and implemented multiple policies and procedures relating to virus protection. These measures included social distancing through scheduling, dedicated stairwells for ascending and descending so there would be no crossover, cleaning high-touch areas multiple times a day, and mandating personal protective equipment when social distancing is not possible.
The Ministry of Labour later visited one of their sites and commended Stonerise for their efforts.
"The policies that we had wrote exceeded the requirements that the government came up with when they opened up construction again," Wade says.
Moving forward, Wade's goal is to continue exceeding expectations – not just when it comes to pandemic preparedness, but in all areas of their operation. He wants the business to continue improving their quality, and to continue to deal with clients openly and honestly. He believes that continuous improvement, combined with that commitment to integrity, is the key to future growth.
For more on Stonerise Construction, including their range of services, their past projects, and updates on their current projects – and to get in touch with Wade and his team – visit http://stoneriseconstruction.com/