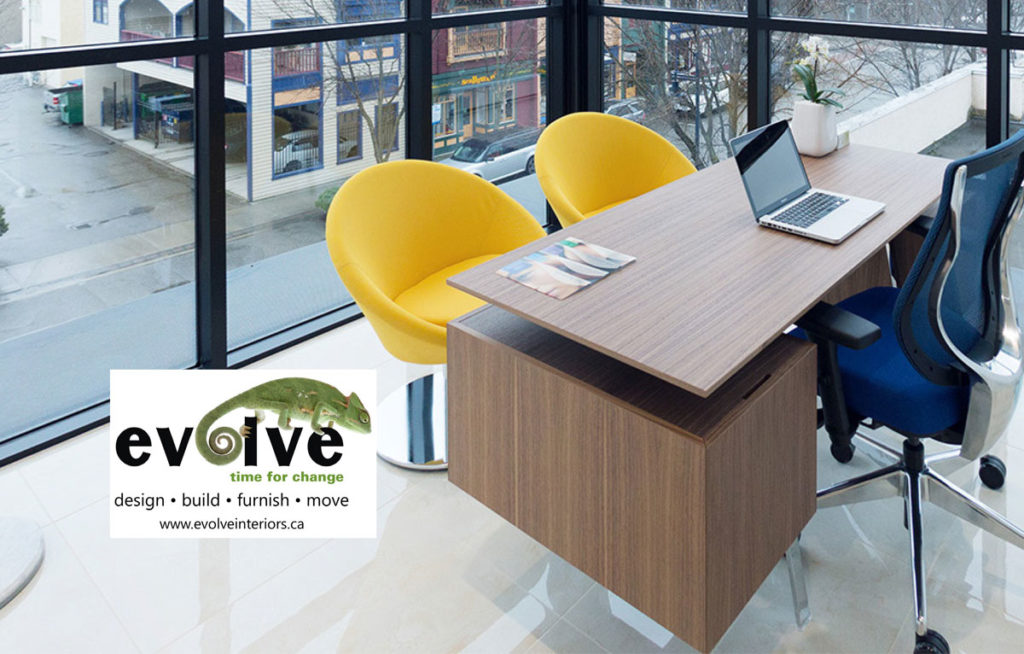 Doing things differently
Evolve Design | Build is a Kelowna-based company changing the way that the commercial interior design industry treats clients. From the start, they have set out to use their depth of experience and their network of contractors to simplify the process. Instead of leaving clients to run around, "joining the dots, fielding the trades, and trying to find some accountability," the expert team at Evolve Design | Build have taken that accountability upon themselves.
"We are the change that we want to see in the industry," says Jules Galloway, founder and owner of the company. "We are proud to be different."
For Evolve Design | Build, being different means providing a complete end-to-end service, from design through to building and beyond. They make sure clients have to deal with one single contact, and that the quality of their project is minded every
single step of the way – all for "incredibly reasonable fees," Jules says.
Jules is a veteran of the design industry of more than 25 years, and she imported the company's unique model from her native United Kingdom, where it is much more common than it is in Canada. When she moved to Kelowna in 2009, she witnessed a number of projects fail due to a lack
of accountability – "nobody was taking ownership of the project as a whole," she recalls. She created Evolve Design | Build to remedy that problem.
"We knew that it wasn't the way things were typically done over here, but it's the way things should be done," she says. "We've never looked back since."
Today, Evolve Design | Build lives up to that original vision by providing a truly complete range of commercial interior services. They are the only
company of their kind that provides for every stage of a project's life, from the beginning to the end. They do it all, including: feasibility and production analysis, RFP and budget analysis, workflow and space design, interior office design, furniture and fixtures, full build management, moving and installation, all the way to finishing and cleaning.
"We own it – the entire project," Jules says. "We take accountability for everything that has to happen and we are the client's biggest and best advocate. There isn't anybody that does that except for us."
The company's full-service approach has proven to be successful, and the company has grown to the point where they can be selective of the jobs they undertake. One of their most important criterions is that they have to be involved early – that way, they can gain an intimate understanding of the client's wants and needs, and they can best help find or make the exact right space for them.
"We have a reputation for being incredibly thorough," Jules says. "I
believe that's quite appealing to clients. I think it's what makes us stand out."
Also appealing is the company's high standard of quality control, which is backed by "very tight systems." Those systems ensure that every project is executed the right way, and that no detail is overlooked.
"There are many moving parts to what we do, so we make sure every
member of the team is well versed in how the project needs to be conducted, and in what order everything needs to happen," Jules explains.
"And we're very strict on our project schedules," she adds. "Schedules are addressed daily to make sure that everything is on track. We make sure we're never missing anything."
That level of to detail would not be possible, however, without a "truly incredible team" – which is how Jules describes the company's entire staff, including their project managers, co-ordinators, designers, accountants, and assistants.
"It's an amazing group of people, and everyone is working towards the same goal," Jules says.
Making a difference
Over the years, Evolve Design | Build's togetherness has translated to continuous success and acclaim. Their passion, coupled with the premium standard of quality, has earned them a long list of repeat clients, testimonials, and even industry awards.
Most recently, the company was recognized by the 2018 Tommie Awards, which are given out by the Canadian Home Builders' Association (CHBA) in celebration of the best home builders in the Central Okanagan. Those awards showcase vision, talent and commitment – all of which Evolve Design | Build displayed on their Foundry Kelowna project, which received a Gold Award for 'Excellence in Innovative Construction / Architecture / Design.'
"We were absolutely blown away," Jules says of that victory. "We knew we were a finalist, but we didn't for one moment think we would win against the monster companies that were nominated in that category – the kind of companies that are incredibly successful and turn out 10 to 15 Tommie Award winning jobs every year. As young as we are, to be up against that, and to make that splash – it's just absolutely mind blowing. Even talking about it now gives me goose bumps."
The award-winning project, Foundry Kelowna, is a wellness centre operated by the Canadian Mental Health Association (CMHA). It was designed to be a place where any youth or parent in the community can find "easy access to the help they need, when they need it," the CHMA states.
"It represented a brand new philosophy around mental health and addiction," Jules explains. "It brings all of the caregivers into the same space, and allows them to provide really integrated and personal care. It's a very meaningful project."
Evolve Design | Build were invited to participate in that project several years ago, and they jumped at the chance. Jules and her team were excited to be involved in such a meaningful space, one that would make such a difference in so many lives. They took the opportunity very seriously.
"We spent 100's of hours interviewing people who were involved in child and youth mental health," she says. "We really wanted to understand their day-to-day needs, and we wanted to help them create a space where they could make the most difference in people's lives."
Jules is incredibly proud of that project due to the social wellness role it will perform in the community. From a design perspective, she was also delighted with what it looked like.
"It's bright, it's bodacious," she says. "It uses all sorts of different fabrics and materials – but it's also very considered. We factored in that there would be young people using the facility that may be on the autistic spectrum, so we made sure the colors, materials and patterns that we used would not affect them negatively."
Jules and her team also factored in that it was a new concept, and that the operators might see fit to change the layout in the future if it turned out that would better suit their needs. By installing a demountable wall system, the company made sure they had that option.
In addition to the thoughtful design, Jules also credits the success of the project to the company's roster of subcontractors and tradespeople. Working under Evolve Design | Build's model is different than the typical model of working directly for the client, but Jules says they all adapted and performed extremely well.
"It was amazing to see how everyone worked incredibly well together under our leadership," she says. "We had HVAC guys lending electrical guys their ladders, and we had electrical guys holding up a piece of millwork for the millworkers."
"They were all working together, and my experience in construction is that's very rarely the case," she adds. "But by the end of the project, they were all saying how amazing it was to work in this structure. They were crucial to the project's success."
Jules also credits the client on the project, the CHMA in Kelowna. Without their vision and trust, Jules says, none of it would have been possible.
The CHMA, in turn, have equally high praise for Evolve Design | Build – for the quality of their work, and for the efficacy of their process.
"Working with Jules and the team at Evolve as an absolute pleasure,"
said Shelagh Turner, Executive Director. "They embraced CMHA and the Foundry Kelowna project from the start and made it easy to navigate the building process and make decisions for a fantastic result. The Evolve team do great work."
Since completing Foundry Kelowna, and earning that praise, Evolve Design | Build have worked with many other not-for-profit clients. Moving forward, they hope to work with many more. They have already designed more Foundry projects for the CHMA, they have worked with Metro Community on projects benefiting the homeless, and they are currently working on the Sheldon Kennedy Child Advocacy Centre in Calgary, as well as a Child Advocacy Centre in Kelowna.
Overall, the not-for-profit sector is one that excites and motivates Jules and her team, and she sees
the company going further in that direction in the future.
Jules also sees the company winning more awards. Now that they have set that bar for themselves, they want to keep raising it higher.
"We're going to continue to grow, and continue to get better," Jules concludes.
For more on Evolve Design | Build, their range of services, and their social media – and to get in touch with Jules and her team – visit http://evolveinteriors.ca/