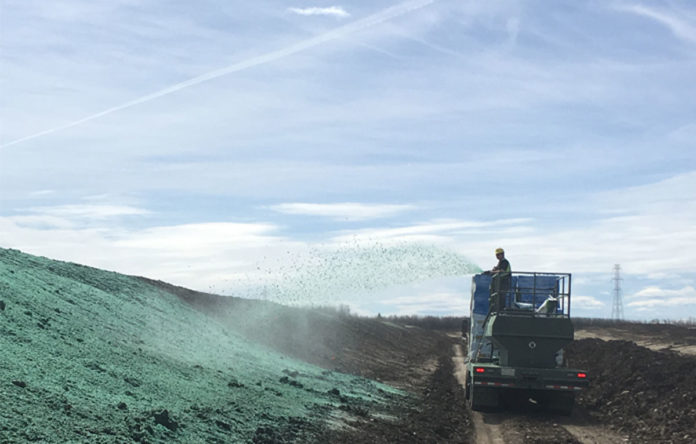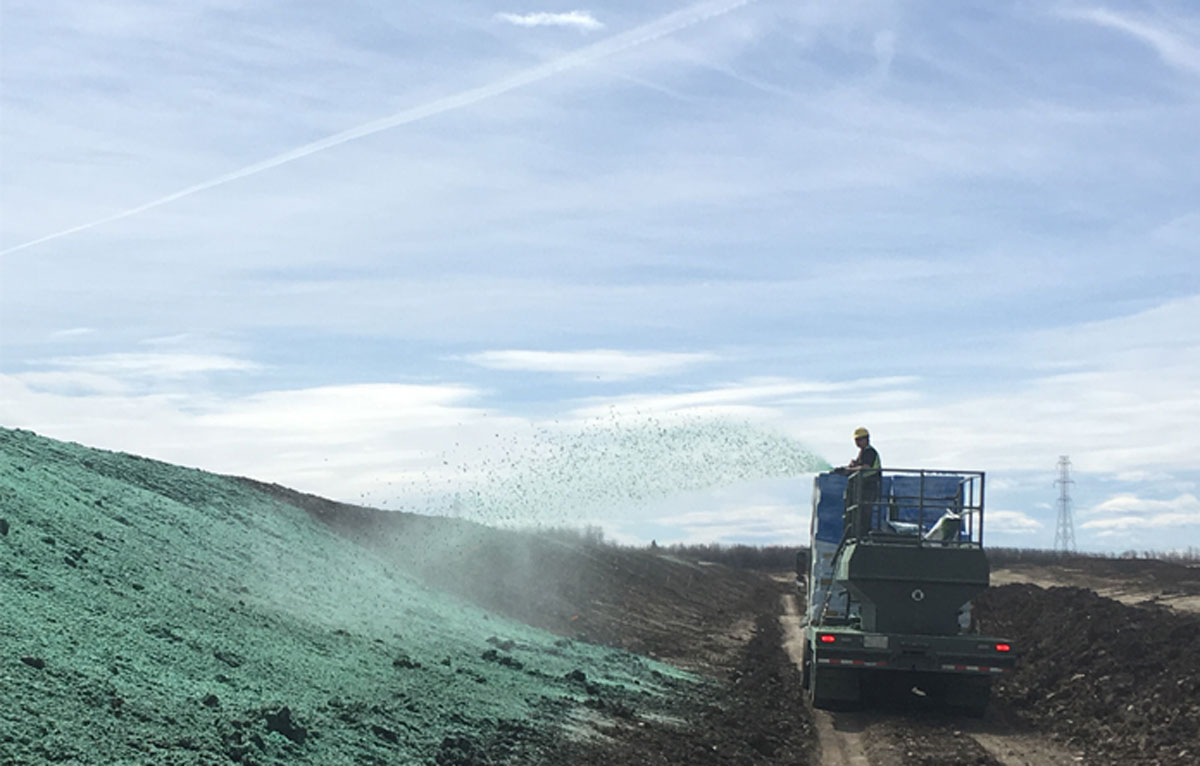 Being the best
Give Back Contracting is a business with a mission. They provide erosion control and slope stabilization construction solutions on some of the most interesting projects in Western Canada, and they do it while Giving Back. They pride themselves on giving back to the environment, their employees and the communities in which they work.
The company specialises in erosion and sediment control (E&SC), a niche in which they have the knowledge and expertise to tackle any challenge, no matter how large or small. They do everything from product installations to complete environmental project management construction and consulting. All the while, they always ensure the integrity of the environment and the safety of their staff. They get the best out of their people by investing in their professional development and empowerment. Every full-time employee pays that investment forward by volunteering in an ongoing, active role in their local community.
They all "give back," says Constantine Grechko, a founding partner of the company. It's not just the name of the business. It's at the core of everything they do.
"We believe that giving back is an essential part of our day-to-day operation," he says. "It's the driving force of our organization."
Constantine – who also serves the company in a Business Development and Estimating role – started Give Back Contracting with his business partner in 2015. At that time, the requirements relating to erosion and sediment control were increasing substantially in Alberta. Clients not only needed the related products to keep up with the increase of the E&SC scope of work, but they needed contractors to install them. Many existing landscaping companies and earthwork contractors preferred to stay away due to how complex and labour intensive the work was.
Give Back Contracting was formed to provide an alternative to those companies, and to fulfill that growing need in the market. In less than two weeks, they had over $300,000 worth of work scheduled – including a significant project on Highway 63, where they installed an erosion control blanket and permeable ditch barrier.
The name for the company, Constantine says, originally came naturally from the service they performed. By performing reclamation and erosion control work, they are giving back to the environment by restoring it and preventing damage during the construction process. The meaning of the name evolved, however, when his business partner Sam Whitehouse came aboard early in the company's life.
Sam has always been passionate about community involvement, and he quickly made that passion a core value of the business. He also helped spearhead the company's operations and safety procedures – which have led to a perfect safety track record and good standing for all major safety qualifications.
Led by both Constantine and Sam, Give Back Contracting has grown significantly since commencement, at least doubling in size every year. Today, they have offices in Edmonton, Alberta, and Regina, Saskatchewan, and operate throughout the entire Western Canada region. They now service a wide range of commercial and industrial clients, while specializing in retaining walls construction, hydro seeding, and installation of erosion and sediment control products. They also take pride in providing customized maintenance solutions, including landscaping maintenance, winter snow removal, and ice management services.
According to Constantine, clients in need of those services gravitate towards Give Back Contracting for a number of reasons. The list starts with how actively the company pursues work, and how effectively they promote themselves to clients.
"We have a lot of competitive edges, and that's a big reason for our fast growth," Constantine says. "One edge is our sales and customer service."
"Most landscaping contractors don't have a designated business development person to chase work. There tends to be a lot of complacency in Western Canada within the landscaping industry. I come from a product sales background, which is a totally different world, and we've implemented a lot of those principles in our company, which helps us attract clients."
"And we don't just stick to one region," he continues. "We tackle all of Western Canada – including Regina, Saskatoon, Edmonton, Fort McMurray, Calgary, Grand Prairie, Lethbridge, and more. We've done significant projects all over."
Give Back Contracting backs up their self-promotion with extremely high-quality customer service. In fact, Constantine says that's an even more important competitive advantage.
"We really service the hell out of clients," he says. "We have a lot to prove, so we make sure we go out of our way to give that extra customer care. We make sure we're visiting with them on a regular basis, that we're showing our faces, that we're asking the right questions and providing the right products and solutions."
The company also fosters strong relationships with their staff members. They develop them not just as professionals, but as people. They help them set both personal and professional goals, and then encourage them to complete them by providing planning and guidance throughout the process and offering bonuses. They also empower their employees by giving them more responsibilities when they want them, and by maintaining a flat company hierarchy, where everyone's input is valued and considered.
"Our giving back strategy is not just about giving back to the community, it's about giving back to the people who work within our company as well," Constantine says.
Then there's the company's technological edge – Give Back Contracting uses technology specifically designed for the purpose of installing erosion control products, allowing them to offer lower prices than their competitors.
Finally, Give Back Contracting is set apart by their reliability. Clients want their jobs done on time and within budget, and that's what Give Back Contracting provides on a consistent basis.
Changing the industry
As a result of their myriad competitive advantages, Give Back Contracting has earned the loyalty of a number of longstanding clients. Many of those relationships started with one small project, Constantine says, "but they were so impressed by our pricing, execution, and how we carry ourselves as a company, that they soon gave us all their E&SC work."
One high profile example of the company's high standard of performance into translating into continuous work is their experience at Suncor Fort Hills, the largest open pit mine site currently under construction in Alberta.
Give Back Contracting has been working at Fort Hills for three years now for several general contractors. They earned the first project there on the strength of Constantine's and Sam's previous relationships, as well as their high standard of safety. They started on just one small site, but over the past three years have worked on four more.
After word spread of the quality of work they were doing at Fort Hills, Give Back Contracting was also hired by additional contractors, who have a strong presence at Fort Hills as well as other industrial sites in the province. Give Back Contracting acquired new erosion control technology specifically for work in that area, and they were able to save the clients a lot of money as a result.
"Most of the projects that we tackle are major, well known projects, with a lot at stake," Constantine says. "We were able to show a high level of professionalism and service on them, and that's led to a lot of work to this day."
Moving forward, Give Back Contracting aims to maintain that high standard of quality and service on projects all across the country. Their detailed business plan, which they update every year, calls for the company to first grow further in Saskatchewan, where they already have a presence, and then British Columbia, where they planning to perform work in the near future. From there, they aim to expand across all of Canada, and eventually, North America.
"We believe that with our standards of doing business – which are uncommon in our sector – there's no limit to how far we can go," Constantine says. "We think we can change the industry for the better, one branch at a time."
Even as the company grows in size and reach, however, they will not grow their range of services. Their goal is not to be a landscaping or earthworks company that does everything, but instead a company that is the best at what they do – which is erosion control and slope stabilization construction solutions.
Also, the company will continue giving back, in all respects – giving back to the environment, their people, and their communities. That's something that they truly want to be the best at.
For more information on Give Back Contracting, including their full range of products and services, and more on their past projects, visit https://www.givebackcontracting.com/
more on their past projects, visit https://www.givebackcontracting.com/