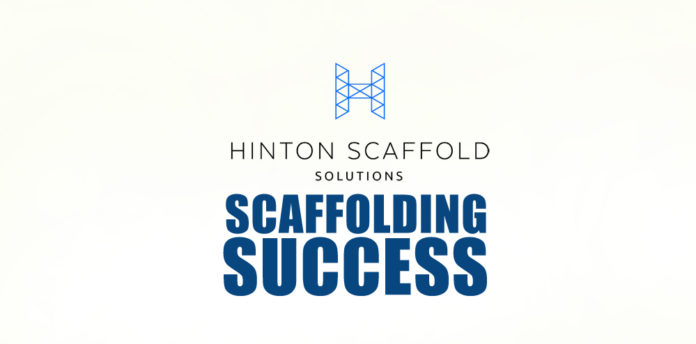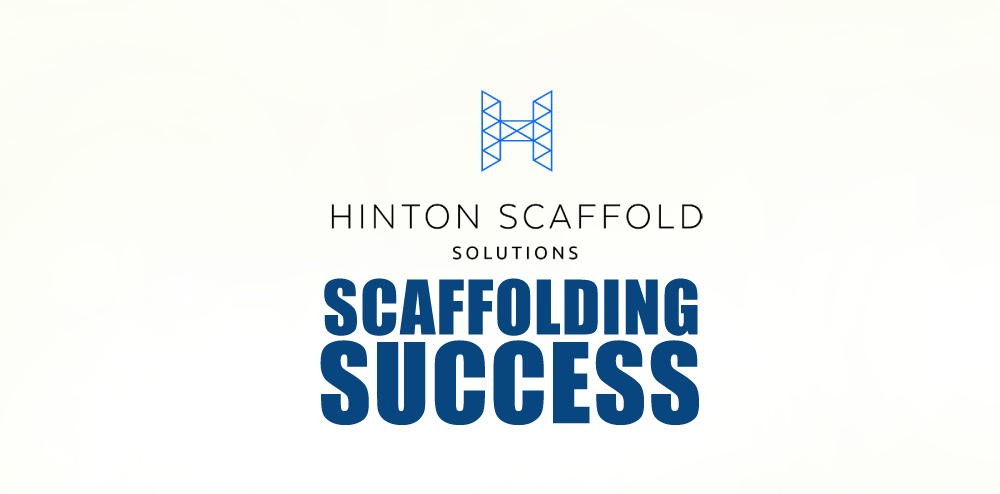 Scaffolding success
Hinton Scaffold Solution (HSS) is an award-winning company providing scaffold design and planning, erection, dismantling, inspection, and consulting services to the North American construction industry. Backed by decades of experience in some of Canada's toughest environments, and armed with a progressive approach to technology, their goal is to bring the highest standards of safety, workmanship and efficiency to their projects.
HSS has only been around a few years, but they have already been recognized by their clients, governments, and industry peers for their dedication to delivering high-quality, technology-backed scaffolding services.
Based on customer opinion, HSS was the winner of their category in Toronto Central at this year's Consumer Choice Awards. Brandon Marton, CEO of the Hinton Group of companies, credits that recognition to how they treat their customers and their high standard of planning and organization.
Currently, they have three offices across Canada with a team of 28 people between them, and that number is quickly growing. Brandon says it's important that every one of those team members "feels like they belong."
"We treat everyone on our team as family, and that extends to the people around us, including our clients," he explains. "We educate and mentor those around us about the effort involved and all the safety factors involved with working on scaffolds. Every day we ask our clients how we can do better. The feedback on how we delivered our services is vital."
The work begins well before the job starts for HSS. "We ensure our own understanding of our client's scaffold needs by 3D modelling and then demonstrating the build in a 3D virtual space. With that model, we can effectively communicate the plan, work effort, and we can ensure that we're on the same page with the client before the first piece of equipment is on the ground. It's important to us that we get the details right, and I think our clients appreciate that level of service."
With the designs built in 3D space, the HSS team then estimates the materials, labour size, work effort and then, working with the client, determines the best schedule for the erection and dismantle of scaffold on the site. Once the project starts, HSS on-boards the workforce, including construction, operations, inspection and safety staff, and as an accredited SAIA-SIAC trainer, HSS provides awareness and safety training for all site workers.
Brandon began his professional career running a landscaping company with his twin brother. In that role, he learned small business management and machine operating skills the hard way. "Ever conscious for my brother's safety, and my own, I developed a keen eye for safety in construction," he recalls.
About a decade ago, Brandon transitioned to industrial construction. Starting as a small equipment operator, he grew is his safety expertise by training for and acquiring the National Construction Safety Officer (NSCO) designation. In that role, he started working with Omar Miller, now HSS' Director of Field Operations. He recalls that Omar was "able to connect with workers on site like no other manager could, including myself." In turn, Omar recognized an organizational talent in Brandon, and he invited Brandon to join his team within the scaffold division of the company they both worked for.
"I was personally fascinated by the scaffold trade," Brandon says. "Scaffolding is like big boy K'nex, with an added level of sophistication and engineering. So I joined Omar's team."
Omar, meanwhile, has been in scaffolding for close to 30 years, and he's long been recognized as one of the industry's leading experts.
"Omar is driven, and highly-skilled," Brandon says. "There's almost nothing he can't do when it comes to scaffolding. There are times where people have said: 'That's an engineering impossibility,' only for Omar to find a way to accomplish the task. That's why he's known as the 'scaffold guru'" across Canada.
A worksite tragedy on the scaffolding team forced Brandon's role with the team to pivot drastically as soon as he joined. There was a site fatality on the night shift, which greatly affected Omar and his team. In the aftermath, Brandon was designated as a "safety eye" for the scaffold division. This allowed him to study the inner workings of a scaffold division in the industrial setting and identify inefficiencies and issues with the way the industry treated scaffold.
"This is what inspired me and Omar to team up and form Hinton Scaffold Solution," Brandon says. "We both believed you have to be the change you expect to see. So that's what we did."
Brandon and Omar's previous company was based in Western Canada, but they came to Ontario to start HSS, which meant they didn't have a lot of existing relationships to lean on. However, they quickly proved themselves. Brandon recalls early clients being "fascinated by how fast we built our scaffolds" – and they were soon taking on some of the most technically challenging projects on the market.
These days, HSS has an expanding list of clients, and they regularly take on work for new ones. That work includes: wastewater pumping station builds; rehabilitation projects; providing access to bridge undersides; subway infrastructure; perimeter scaffold wraps around buildings; maintenance projects for steel mills and processing plants; and new construction of ethanol plants. Their team has completed projects with a peak workforce of 600, and over 26 million pounds of materials built on site, but they also happily take on smaller jobs, and they treat "even the smallest scaffold inquiry with the same level of professional service."
Embracing change
HSS' ability to deliver the most efficient scaffolding services in the industry is based on the proprietary management, tracking and reporting processes they have developed over the years. HSS' has an innovative commitment to the use of technology and the development of new technologies. Recently, HSS founded a new subsidiary, Hinton Software Solutions (Hintonsoft).
"We're very keen on technology," Brandon says. "We consider it to be the core of our business. A lot of companies in the construction industry are resistant to change, but we embrace change."
Last year, HSS and Hintonsoft appointed Peter Goldberg as their first Chief Information Officer. Peter is an award-winning Information Technology Leader and a successful consultant in Canada's Energy and Public Sector. He joined the company because of Brandon and Omar's vision.
"I met Brandon through a mutual friend," Peter recalls. "His and Omar's passion and enthusiasm were infectious. Once they walked me through the working prototypes of their information management system, I was convinced that I could play a role in making Hintonsoft the standard for data and analytics in scaffolding construction. We also wanted to play a leading role in creating more dynamic training systems that can be delivered anywhere, anytime and that will break down barriers to underrepresented or geographically challenged individuals or groups."
The result of Hintonsoft is the development of 'SLAM!', the first scaffold lifecycle asset management system, which provides "unprecedented insights" over the lifecycle of a scaffolding project.
"The industry is changing," Brandon says. "Some elements of the industry fall behind or are neglected for too long. Sadly, scaffolding tends to be one of the elements of the industry that can be neglected."
That neglect is unfortunate, he explains, because scaffolding is a high cost for many projects – it can be up to 30 per cent of the total budget of major projects – and small inefficiencies can lead to major overages.
Peter also adds, "On a half-billion dollar industrial build using SLAM!, we believe we can find efficiencies of up to 10 per cent of the overall scaffold budget by better managing materials, labour, costs and schedule. That's 15 million dollars back on the project's bottom line!"
"We branched off to create Hinton Software to develop a platform to take in data without interrupting the flow of work at the field level," Brandon says. "Its design is for the field to use while providing the insights for management to make data-driven decisions."
"The reason this was a priority for us is that currently there are poor quality metrics that track performance on large scale projects," he says. "And most of it is tracked post-mortem. Clients have few options for transparency. Many prime contractors avoid taking on scaffolding because the risks of going over budget on scaffolding can lead to being kicked off the project."
"We think we're different because we want to be transparent," he adds. "We want to present to our clients what's really happening. We're looking to set the standard in the industry for presenting what the real requirements of a project are going to be."
In 2020, HSS was awarded a grant by the Natural Sciences and Engineering Research Council (NSERC) to develop tools that collect data and apply visual reporting and predictive analytics to scaffolding plans and activities. The data collected in that tool will similarly allow HSS to better predict material requirements, project budgets, and delivery timelines. HSS and Hintonsoft have been working with a team of students and their Professor Dr. Zhen Li from the University of New Brunswick to develop these analytics.
Hintonsoft also has a new, top-secret project that will revolutionize how scaffolding and scaffolding safety training are delivered.
"We aren't allowed to say much right now until the formal announcement comes out," Peter says, "but we can tell you that we've been awarded a project, a big one, to build an e-learning platform using some of the newest and most innovative technology in the world. We are going to break down barriers – societal, geographic, and financial – to empower anyone, including Canada's most underrepresented groups in the industry, to have the ability to learn the profession."
Relationship building
Since forming, HSS has focused on building lasting relationships with all their stakeholders, starting with their clients. They take a long-term view to relationship building – which is why they still regularly take on smaller jobs.
"Relationships take time and tending," Brandon says. "A new relationship can lead to additional work and long term service. We treat projects big and small with unparalleled professional delivery."
As a result of that approach, Brandon says that HSS has retained "pretty much every client we've ever had."
"We're still talking to our very first client. They now include us in all of their bid packages. They talk to us about those bids in advance to ensure that the scaffolding costs are covered in the planning stage."
Within their team, HSS aims to develop similarly loyal relationships.
"Having worked with some of the largest construction companies in North America, I know an employee can quickly feel like a number," Brandon says. "We never want that to happen here. It's one of the core principles we started with."
"As a BIPOC company, we know the value of inclusivity," he continues. "We promote equality and respect – and much more, we practice it. On large-scale industrial or small commercial jobs, the management participates in all aspects and we lead by example. We want to instill our site slogan, 'Each one teach one,' to all that are involved."
The company's relationships with suppliers and vendors are important too, Brandon says, and the same principle of 'respect' applies.
"We have excellent relationships with our suppliers and vendors. We have established relationships that will continue to blossom and expand as we continue to grow. Our suppliers are critical to the level of service we're able to offer our clients."
"When a client is in a bind and there's an opportunity for ourselves to step up, we rely on these fortified relationships to deliver our services on time," he continues. "And when we have an issue of our own, our vendors respond in turn to rectify the issue collaboratively."
Moving forward, HSS' goal is to continue fortifying those relationships, and together with their partners, they aim to "set the standard." They want to be the scaffolding company that leads the way in terms of customer service, project savings, environmental savings, and innovation to the benefit of their clients and workers in the industry.
The company also wants to continue growing. In fact, Brandon and Omar see HSS' future "as being a part of the safety program for every major project across North America.
"Before we created Hinton Scaffold Solutions, we worked for the big guys, so we're very comfortable working at scale," Brandon concludes. "We're ready to get back to that. We have the people and the assets. We very much see ourselves as being a North America-wide company and competing with the largest-scale companies on the market."