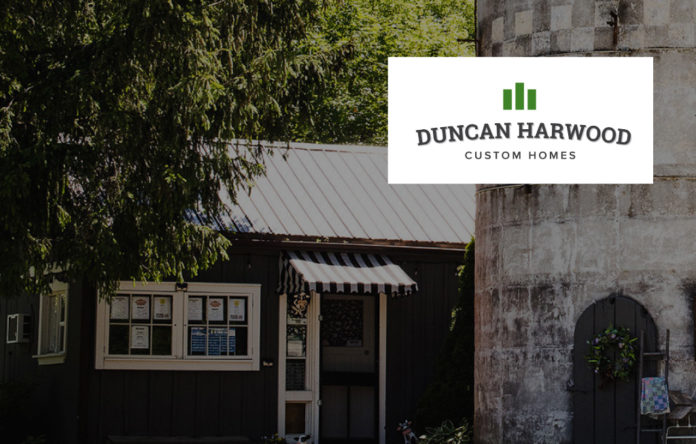 Powered by passion
Duncan Harwood Custom Homes is a family company in every sense of the word – they are family owned and operated, and they are dedicated to helping families achieve their dreams. They work with their clients, usually families, through each stage of their build, keeping them engaged and active every step of the way. Their goal is to bring their vision to life, to help them create the home of their dreams. They know they have succeeded when a client has the home of their dreams, as well as an experience to they can look back on fondly.
According to Matt Spence, founder and owner, Duncan Harwood's dream-realizing ability is a credit to their staff, and the deep well of knowledge and expertise they possess. He says the company is backed by many years' experience in project management, architectural design, customer service, and sales. He calls that vast and varied experience "our main point of difference."
Matt has personally been working in the industry since high school, when he was finishing basements and working part time in woodshops. Since then, he has embarked on an unusually varied career: he has obtained a BCIN design license; he's worked with cabinet-making companies; he spent years with EllisDon, one of the largest construction and building services companies in the world.
In his time with EllisDon, in particular, Matt says he received "some of the best training you can get." He also got the chance to be involved in some large scale ICI projects. In that role, he was involved in a number of large scale and high profile projects, including the Ivey Business School and the Western Fair District Agriplex in London, Ontario. Homebuilding was always a dream of his, however, and in 2017 he moved on and founded his own business to pursue that dream.
The first iteration of Matt's company was called 'Duncan Harwood Design Build.' In order to build their reputation, they started by taking on smaller projects, mostly kitchen and bathroom renovations. Fortunately, clients immediately took note of their quality, and the company grew quickly based off of word of mouth and referrals.
The goal, however, was always to build new custom homes – and last year Matt and his team finally got their chance. Duncan Harwood was made a selected builder on an exciting new local subdivision, and the company rebranded to reflect their new focus.
The subdivision in question is called 'Boardwalk at Millpond,' and is located in the heart of Dorchester, Ontario. It is the township's first full scale community development of its size in more than 20 years. It is conveniently situated just seconds from the 401, 10 minutes east of London, and 20 minutes west of Woodstock. At the same time, it boasts the natural beauty of a more secluded location. The development can be described as "nature meets quality meets convenience."
Duncan Harwood is one of only four distinguished builders operating in the community. They delivered 21 houses in Phase 1, and they are excited about their future contributions to Phase 2. The entire subdivision will eventually comprise roughly 600 lots, and Duncan Harwood will be responsible for roughly a quarter of them.
So far, the reception to the homes the company has already delivered has been highly positive. According to Matt, client satisfaction is "extremely high."
That satisfaction, Matt says, is a result of the company's extremely thorough process and highly personal service. He says they truly go above and beyond to make their clients comfortable at all stages of the design and build process.
"You get a little bit more of a helping hand with our company than you do with others," he says.
For example, Duncan Harwood employs an interior designer directly to help clients with their material selections. Many builders send their clients to deal with their suppliers and leave them to make decisions without them. Duncan Harwood walks them through the process in-house. They stay involved at every step.
The company also takes extra steps in order to ensure that their jobs progress smoothly and without interruption. Another thing they do that many builders do not is they conduct mechanical and electrical coordination meetings with clients before the house is even framed. They then draft designs, so clients can visualise and approve them well in advance. Those drawings then go out for pricing, and ae then printed, laminated, and posted at the job site for everybody to review and coordinate.
"That's probably why our sites run a little more smoothly than most," Matt says
"With most builders, when a mechanical subcontractor shows up to a job site, they need someone to walk them through where everything goes," he explains. "They have to figure out 'Where is the BBQ gas line going? Is there a gas stove or not? Is it a left hand drain or a right hand drain?' With us, that information is readily available right away."
Really good people
Matt credits Duncan Harwood's quality to a number of factors. One of them is his personal involvement – he's on site all day long, he is in charge of training his employees, and he takes full responsibility for every product they hand over to a client.
"Duncan Harwood Custom Homes is an extension of me," he says. "I take that very seriously. I never want to let a customer down."
In order to avoid that outcome, Matt also leans on his project management software, which calls for constant quality management reviews and inspections, and enabled the company to head off problems as they come up – "as opposed to later, when it's too late, or they are too costly to address, "Matt syas.
Matt is also extremely selective of his subcontractors and suppliers. As a company, he says Duncan Harwood only works with "high quality" partners, and that they put them through a "constant monitoring process."
"What I have found is that somebody's quality on the first install that they do for you is usually not the same quality on the fifth install that they do for you," he explains. "The fifth install is where most builders fall off, because they don't review. At Duncan Harwood, we constantly monitor and manage quality."
The partners that stick around, Matt says, are the partners that share in his passion for building. He calls those people "craftspeople," as opposed to just "subcontractors."
"They are people who are passionate about their craft, who are passionate about what they do, no matter what it is," he says. "They are people who take a lot of pride in their work. They are craftsmen and craftswomen."
Duncan Harwood has only been in operation for a few years, but Matt says they have already built a roster of suppliers and trades who fit that bill. On the supplier side, he credits their millwork, kitchen and carpet suppliers in particular with embodying those values. On the trades, he calls their mechanical and electrical team "phenomenal – they are some of the most passionate people we work with."
Moving forward, Duncan Harwood's goal is to continue working with those likeminded partners – and to find more partners like them as they get into more subdivisions and grow as a company.
"And we definitely want to grow," Matt concludes. "Dorchester has a lot of opportunity, and we want to take advantage of that. We see ourselves as being a medium-sized builder, and we want to get there as fast as possible. We're actively hiring right now, and I feel like we'll always be looking for really good people."
For more on Duncan Harwood Custom Homes, what they do, and where they work – and to get in touch with Matt and his team – visit http://duncanharwood.com/